2015 YRBS data show progress in some areas of sexual risk behaviors for high school students and reveal areas of concerning behavioral trends in others.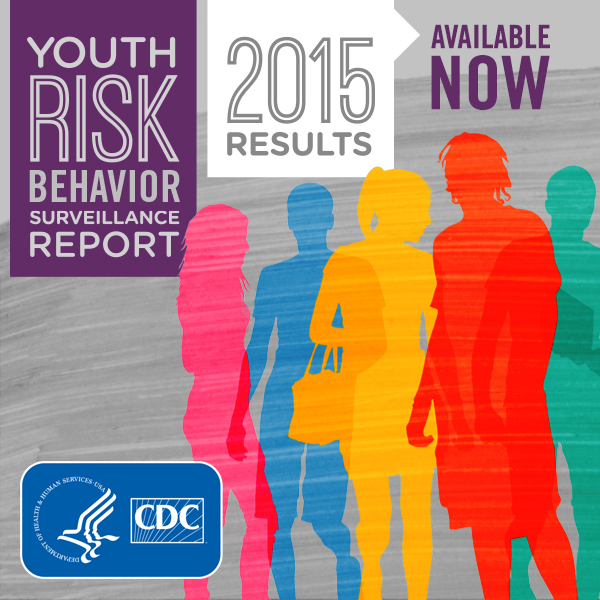 Summary of Survey Findings
CDC released the MMWR Surveillance Summary, Youth Risk Behavior Surveillance – United States, 2015. The report summarizes results from the 2015 National Youth Risk Behavior Survey (YRBS) conducted among more than 15,000 students across the nation in grades 9-12. YRBS monitors six categories of priority health risk behaviors among high school students, including sexual risk behaviors that contribute to HIV, other sexually transmitted diseases (STD), and pregnancy. The newly released report shows progress in some areas of sexual risk behaviors, while other areas reveal concerning behavioral trends that continue to put young people at risk.

The 2015 YRBS report shows that while the proportion of high school students who are currently sexually active has continued to decline (38 percent in 1991 compared to 30 percent in 2015), condom use among these students also declined over time (63 percent in 2003 to 57 percent in 2015), and more than one in five currently sexually active students reported drinking alcohol or using drugs before sex (21 percent). In addition, HIV testing among all students has declined (from 13 percent in 2011 to 10 percent in 2015). These concerning trends continue to put young people at risk and highlight the need for improvements in reducing the risk of HIV, STDs and pregnancy among high school students.

Reducing teen pregnancy and HIV transmission rates are both among CDC's Winnable Battles. With additional effort and support for evidence-based, cost-effective strategies, youth-focused programs and prevention activities can be implemented now that will have a significant impact on the nation's health in the future.
Other Important Findings from the 2015 YRBS
In addition to monitoring sexual risk behaviors among youth, YRBS monitors five other categories of priority health risk behaviors that contribute to the leading causes of death, disability, and social problems among youth and adults in the United States, including:
alcohol and other drug use,
tobacco use,
unintentional injuries and violence,
unhealthy dietary behaviors, and
physical inactivity.
Among these areas, 2015 data showed that -
Current cigarette smoking: Among high school students, the prevalence of cigarette smoking has dropped from 28 percent in 1991 to 11 percent in 2015—the lowest level since the survey began in 1991.

Prescription drug use: Despite a decrease from 2011 to 2015, nationwide, 17 percent of students had taken prescription drugs (e.g., OxyContin, Percocet, Vicodin, codeine, Adderall, Ritalin, or Xanax) without a doctor's prescription one or more times in their life.

Texting or emailing while driving: Nationwide, 42 percent of students who had driven a car or other vehicle during the past 30 days texted or emailed while driving, which is unchanged from 2013.

Obesity and sedentary-related behaviors: There was a significant decrease in students drinking soda one or more times a day from 27 percent in 2013 to 20 percent in 2015; however, sedentary behaviors continue to cause concern. From 2003-2015 the percentage of high school students using a computer three or more hours per day (for non-school related work) nearly doubled from 22 percent to 42 percent.
How Prevention Partners Can Use YRBS Data
The data from YRBS are used widely to help develop and evaluate school and community programs and can help communities, schools, and students decrease health risk behaviors among youth and improve health outcomes. The data reflect nationwide participation and prevention partners can use YRBS findings to compare risk behaviors and trends over time, and measure progress toward achieving national and state-wide goals and objectives. YRBS data can assist prevention partners in identifying priority health risk behaviors among youth that are relevant to their state, and drive the use of evidence-based approaches that impact positive health outcomes among youth.
Review the 2015 YRBS results and sign up for email updates about new YRBS products on the CDC Healthy Youth Web site. For additional resources and updates visit the CDC Adolescent and School Health page.
7/11/16