Mobile phone users can send a text message with their ZIP code to KnowIt and receive a return text with an HIV testing site near them.
Let your friends know you support National HIV Testing Day. Promote HIV testing by adding a KnowIt tool to your Web site or social networking page.
Image: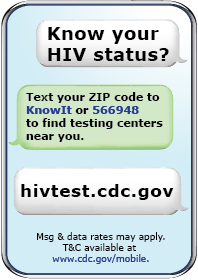 Copy Instructions:
Copy the code below and paste it in the About Me section of your social networking page.
Code:
<a href="http://gettested.cdc.gov/?utm_source=Link&utm_medium=Banner&utm_campaign=KnowitEng1" title="Know Your HIV Status… Text your zip code to KnowIt or 566948… to find HIV Test Centers near you. gettested.cdc.gov"> <img src="http://npin.cdc.gov/sites/default/files/knowit-badge-195.png" alt="Know Your HIV Status… Text your zip code to KnowIt or 566948… to find HIV Test Centers near you. gettested.cdc.gov" width="196" height="280" border="0" usemap="#img1" /></a> <map name="img1" id="img1"> <area shape="rect" coords="45,253,153,267" href="http://www.cdc.gov/mobile" target="new" alt="www.cdc.gov/mobile" /> <area shape="rect" coords="1,7,190,274" href="http://gettested.cdc.gov/?utm_source=Link&utm_medium=Banner&utm_campaign=KnowitEng1" alt="Know Your HIV Status… Text your zip code to KnowIt or 566948… to find HIV Test Centers near you. gettested.cdc.gov" /> </map>