With viral hepatitis being the leading cause of liver cancer and the most common reason for liver transplants,i increasing the number of high risk individuals who are tested and treated is key to reducing the burden of this disease.
Prevention coordinators are an important resource for adults at risk for viral hepatitis, by linking individuals to testing and treatment options, as well as developing outreach tactics for hard-to-reach populations. Prevention professionals can also empower their clients to be active participants in their health and wellbeing. CDC's online Hepatitis Risk Assessment tool is designed to determine an individual's risk for viral hepatitis by asking a few questions based upon CDC's guidelines for testing and vaccination.
This short, simple, and interactive assessment is an important tool in the fight against viral hepatitis. With nearly 50% of Americans infected with Hepatitis C unaware of their statusii and nearly 4.4 million people living with chronic hepatitis, providing individuals the chance to answer questions privately and print their answers to discuss with doctors is an important arsenal in the fight against viral hepatitis.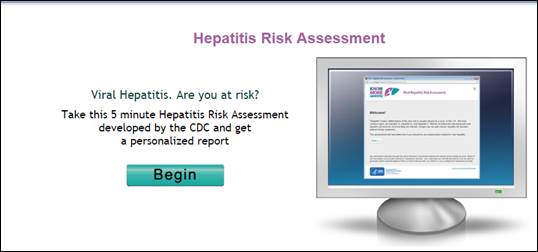 The Hepatitis Risk Assessment (HRA) tool provides clients the freedom to assess their risk and get personalized information when and where it is convenient for them. In this era of hi-tech and mobile populations, consider widely sharing this tool with clients and other prevention partners, and encourage others to take the assessment by posting HRA buttons/badges to your organization's web site, blog, or social networking site.
6/24/15