Sexual Health Innovations

The CDC NPIN Featured Partner resource offers HIV/AIDS, viral hepatitis, STD, and TB prevention-focused organizations a platform to showcase their services, programs, and materials. Our goal is to highlight the work of CDC's prevention partners and encourage partners to connect with each other to share information and strategies. Organizations are nominated by CDC or their peers, or are self-nominated. Those selected are featured on the NPIN Web site for the month.
Sexual Health Innovations Overview
Sexual Health Innovations is a nonprofit organization dedicated to creating technology to improve sexual health and wellbeing in the United States. Their priorities include:
Creating original high-quality Web sites, apps, and software to promote sexual health.
Collaborating with organizations working in the area of sexual health to build and improve their technology products and services.
Connecting those working in the area of sexual health with the domains of technology, design, and entertainment.
Program Highlight
To combat the spread of sexually transmitted infections (STIs), Sexual Health Innovations wants to make it easy for every person in the United States to locate affordable STI testing services, get treated, receive their results, and notify their partners of their status. Sexual Health Innovations also collaborates with other organizations on sexual health education campaigns around issues such as normalizing condom use or HIV testing.
Sexual Health Innovations' resources include: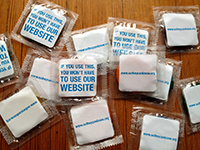 So They Can Know condoms
So They Can Know (STCK) is a free Web site designed to help people diagnosed with STIs notify their past and present partners. The Web site provides patients with tips, scripts, and a video on how to talk to their partners. Patients with chlamydia, gonorrhea, or trichomoniasis also can e-mail their partners anonymously to let them know they need to get tested. These informative notification e-mails let patients know what they should get tested for, how likely they are to have symptoms, how the STI is spread, and where to go close by to get tested. Sexual Health Innovations plans to add in anonymous text messaging capabilities by the end of the year.

The Web site also features content about STI prevention, risk, testing, and general information.

Clinics interested in telling their patients about the Web site can download free cards or brochures from the For Providers section of STCK, or can have cards sent to them for free by signing up on the STCK Clinic Web site.
Private Results is an STI test result delivery service. It makes it easy for patients to view and understand their STI test results, and provides them with important next steps. Patients can access their results through a Web site or through an automated toll-free telephone number, in English or Spanish. The service links positive patients to information and tools to help them get treated, notify their partners, get rescreened, and learn more about their STI. The service links negative patients to information about where to find free condoms near them and more information about the STIs for which they were tested. They also can set a text or e-mail reminder to themselves to get rescreened through the service.

Private Results is designed to help clinics and providers as well--it pulls data automatically from laboratories, and allows providers to easily view which patients have and have not viewed their test results. Private Results also makes it easy to generate reports for the health department and funders, and to share aggregate data on STI tests and diagnoses with third parties in real time.

If you are interested in bringing Private Results to your clinic or health department, contact team@sexualhealthinnovations.org or sign up at www.privateresults.org.
Sexual Health Innovations has collaborated with other organizations on building or maintaining online campaigns, including:
The Sex Pact, an initiative to increase and normalize condom use among young black or African American men in Washington, D.C.
Baltimore Status Update, an STI prevention, testing, and education campaign for Baltimore's LBGT community.
Sexual Health Innovations

175 Varick St, 4th Floor
New York, NY 10014
415-265-2212