New York City Health and Hospitals Corporation (HHC)

The CDC NPIN Featured Partner resource offers HIV/AIDS, viral hepatitis, STD, and TB prevention-focused organizations a platform to showcase their services, programs, and materials. Our goal is to highlight the work of CDC's prevention partners and encourage partners to connect with each other to share information and strategies. Organizations are nominated by CDC or their peers, or are self-nominated. Those selected are featured on the NPIN Web site for the month.
New York City Health and Hospitals Corporation (HHC) Overview
The New York City Health and Hospitals Corporation (HHC) is a $6.7 billion integrated healthcare delivery system with its own 400,000-member health plan, MetroPlus. As the nation's largest municipal healthcare organization, HHC serves 1.3 million New Yorkers every year, and more than 475,000 of them are uninsured. HHC provides medical, mental health, and substance abuse services through its 11 acute care hospitals, all of which are Designated AIDS Centers; four skilled nursing facilities; six large diagnostic and treatment centers; and more than 70 community-based clinics. HHC Health and Home Care also provides in-home services to persons living in New York.
From the start of the AIDS epidemic 30 years ago, HHC has been a leader in HIV/AIDS treatment and care. In 1981, before HIV or AIDS had been identified, Bellevue Hospital reported one of the first of the three cases of unexplained immunodeficiency in the United States. By the mid-1980s, HHC hospitals were seeing growing numbers of patients with AIDS and started developing treatment plans and services, including
The first hospital-based HIV nutrition program in the country, which opened at Bellevue Hospital.
The first long-term care beds in the United States for people living with AIDS at Coler Memorial Hospital.
Kroc Day Care Center for Children with HIV at Jacobi Medical Center.
HHC has also participated in important research over the years, such as studies of HIV infection in women at HHC's Kings County Hospital in 1986, which led to the development of the country's first guidelines for care of HIV-infected women.
Program Highlight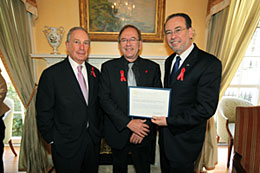 Photo Credit: Edward Reed, Office of the Mayor
NYC Mayor Michael R. Bloomberg, CDC's Dr. Bernard M. Branson, and HHC President Alan D. Aviles at a World AIDS Day event, holding the HHC certificate of recognition from Mayor Bloomberg for testing one million for HIV.
HHC has been in the forefront of incorporating HIV screening into routine medical care. They began offering routine testing through the HIV Testing and Expansion Initiative (HTEI) in mid-2005. Five years later, in 2010, the New York State law was amended to require healthcare providers to offer patients a voluntary HIV test, with limited exceptions.
HHC's testing program reaches patients in all 11 public hospital emergency rooms, in-patient units, and outpatient clinics, as well as its six diagnostic and treatment centers (large community health centers), providing testing in settings that include not only general medical services, but also specialty services, such as dental care. The testing initiative also reaches nontraditional settings, like bathhouses, public health fairs, and colleges.
From mid-2005 to September 2011, the testing initiative has tested one million adolescent and adult patients, diagnosed 10,600 HIV-positive individuals, and linked and retained thousands in HIV primary care; improving their health and the health of the community. More than 90 percent of patients diagnosed with HIV at HHC facilities are linked to life-saving HIV medical care and treatment within 90 days of being diagnosed.
HHC promotes the following as best practices:
Building a consensus for action from executive and clinical leadership

The President of HHC and the Chief Medical Officer met with all HIV Medical Directors to forge the initial consensus for expanding routine HIV testing.

Requiring a written plan that is monitored by facility and corporate staff

For the first year of implementation, before facilities could begin expanding the routine offer of HIV testing, they were required to submit a 1-year implementation plan covering inpatient, outpatient, and the Emergency Department, and describing which tests they would use as well as the hours when testing would be available at their facilities.

Provider champions

Often the HIV medical director crafted strategies to encourage colleagues to support testing (one hospital met with their laboratory, and both described a single plan for implementation using extensive and not-in-place-before, point-of-care testing); however, in some cases a non-HIV director provided leadership. In one example, the Director of an Emergency Department insisted that providers directly participate in HIV testing.

Peer feedback to providers

During the first few years, a physician and members of the HIV services office did periodic site visits to facilities, reviewing the implementation of routine testing and offering troubleshooting assistance. In addition, each year for several years, HHC held a corporate-wide Fall Update on HIV testing to share progress, celebrate and learn from achievements, and recognize clinical and nonclinical leaders. Panelists included state officials supervising testing as well as external physician/researchers who reviewed progress and helped clarify challenges.

Partnering with others where you can

From the beginning of the HTEI, HHC has partnered with others: the New York State Department of Health on a state-wide conference on rapid HIV testing, the city Department of Health and Mental Hygiene on a New York City conference on testing expansion, and local community-based organizations on community referrals for HIV testing.
New York City Health and Hospitals Corporation

125 Worth Street
New York, NY 10013
212-788-3339

Evelyn Hernandez
Evelyn.hernandez@nychhc.org