International Federation of Black Prides

The CDC NPIN Featured Partner resource offers HIV/AIDS, viral hepatitis, STD, and TB prevention-focused organizations a platform to showcase their services, programs, and materials. Our goal is to highlight the work of CDC's prevention partners and encourage partners to connect with each other to share information and strategies. Organizations are nominated by CDC or their peers, or are self-nominated. Those selected are featured on the NPIN Web site for the month.
International Federation of Black Prides Overview
The International Federation of Black Prides, Inc. (IFBP) is a coalition of Black Pride organizations formed to promote a multinational network of lesbian, gay, bisexual, and transgender (LGBT) Black Prides and community-based organizations (CBOs) dedicated to
Promoting grassroots organizing around issues adversely affecting the Black LGBT community.
Promoting community health and wellness.
Providing technical assistance to its member Prides.
Promoting unity.
Ensuring the development of education, economic empowerment, and individual and collective self-determination.
The mission of IFBP is to build awareness of and pride in the diversity of the Black LGBT community. Each local Black Pride is a nonprofit organization dedicated to the mission of the IFBP. Each Black Pride hosts year-round services and activities in addition to a multi-day festival that celebrates the rich cultural heritage of the Black LGBT community through educational workshops, health seminars, artistic events, and activism on the local level. Since its formation in 1999, the IFBP has grown to include 32 domestic member-and-affiliate Prides and three international Prides, with over 300,000 members of the Black LGBT community and other communities attending Black Pride events in 2010.
Program Highlight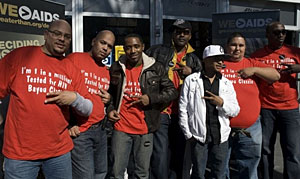 As part of the AAALI, the IFBP integrates HIV education and prevention services into its overall programming. Through its member Prides, the IFBP has hosted 23 AAALI-related activities and workshops, from October 2010 through June 2011. Given the IFBP's reach among Black men who have sex with men (MSM) and the impact that HIV has had among Black MSM, the IFBP has targeted this population with its AAALI-related activities. Through this period, the IFBP has reached a total of 18,332 individuals with HIV and other health-related information, testing, and screening opportunities. Through these opportunities, the IFBP has tested 860 individuals for HIV and identified 37 new HIV infections, an HIV positivity rate of 4%. All 37 of the newly diagnosed individuals were referred and connected to care. The IFBP will continue to expand this program over the next 3 years.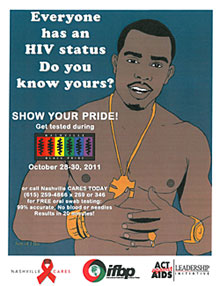 Flyer for upcoming Nashville Black Pride
The IFBP AAALI project specifically promotes partnerships with local health departments and/or CBOs to achieve its HIV prevention messaging, counseling, and testing goals, as well as the much-needed support services for Black MSM communities. Since the IFBP member and affiliate Black Prides do not provide direct HIV-related services for the most part, partnerships with health departments and/or CBOs are critical to ensuring thousands of locals are reached with HIV and other health-related activities in year-round member activities. These partnerships generally involve IFBP members conducting targeted outreach to Black MSM communities through social media and street outreach, as well as providing appropriate venues to offer confidential and/or anonymous HIV testing-related services. Partnering health departments and/or CBOs provide the HIV testing, counseling, and referral-related services.
Local health departments and/or CBOs looking to enhance their outreach and testing efforts to reach those hardest hit by the epidemic in their local communities may contact the IFBP Director of Programs, Michael Hinson at Michael.Hinson.Jr@gmail.com or contact the local Pride organization directly about a future partnership. A list of contacts for the IFBP members is provided on the IFBP Web site on the "Prides" page. Currently, Albany Black Pride, Jackson Black Pride, and Nashville Black Pride are run by CBOs, which perform their own HIV direct services; however, partnership opportunities still exist with these members. As a result of the success of the AAALI partnerships described above, Nola Masquerade (New Orleans Black Pride) and Little Rock Black Pride have also entered into funding agreements with their local health departments to provide HIV and/or sexually transmitted disease (STD) outreach and testing to Black MSM.
International Federation of Black Prides, Inc.
1806 Vernon Street, N.W.
Suite 200
Washington, DC 20009
202-347-0555