The CDC NPIN Featured Partner resource offers HIV/AIDS, viral hepatitis, STD, and TB prevention-focused organizations a platform to showcase their services, programs, and materials. Our goal is to highlight the work of CDC's prevention partners and encourage partners to connect with each other to share information and strategies. Organizations are nominated by CDC or their peers, or are self-nominated. Those selected are featured on the NPIN Web site for the month.
Hepatitis B Foundation Overview
The Hepatitis B Foundation (HBF) is the only national nonprofit organization focused on hepatitis B, a serious but often neglected disease. HBF was started in 1991 in Bucks County, PA, in response to a young family affected by hepatitis B that had nowhere to turn for information or support. Since then, HBF has been dedicated to finding a cure and improving the quality of life for the millions of individuals affected by the hepatitis B virus (HBV) in the Philadelphia area, the United States, and around the world.
HBF's commitment includes funding focused research, promoting disease awareness, supporting immunization and treatment initiatives, and serving as the primary source of information for patients and families, the medical and scientific community, and the general public. The HBF outreach program directly reaches more than 20,000 patients, family members, and health care providers in the Philadelphia area and throughout the United States through patient conferences, free newsletters, an online portal, and telephone and e-mail helplines. Its interactive Web site reaches more than 1 million visitors worldwide.
The HBF public health team develops and provides programs to eliminate the health disparities associated with HBV in the United States and China. The HBF advocacy program has helped make great strides for this mostly overlooked and underfunded disease, including drafting and advocating for federal and state viral hepatitis legislation. Scientists at HBF's research institute conduct drug discovery and biomarker discovery research for viral hepatitis, nurture biotechnology, and train future researchers.
Program Highlight
Hep B United Philadelphia (formerly Hep B Free Philadelphia) is a public health awareness and education campaign that addresses the growing severity of hepatitis B and liver cancer in the United States. The primary goals of the Philadelphia campaign include the following:
Raise the profile of hepatitis B and liver cancer as an urgent health priority.
Promote hepatitis B testing and vaccination, particularly among at-risk populations.
Stimulate community engagement and involvement to improve access to care for both prevention and treatment to reduce the local burden of hepatitis B and liver cancer.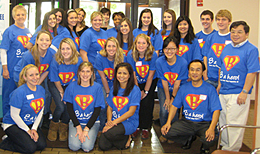 Students and Hep B United coalition partners on Philadelphia Citywide Hospital Screening Day, October 22, 2011
Hep B United Philadelphia is led by HBF. The campaign currently has more than 60 coalition partners, including the Philadelphia Department of Health, social service providers, health care professionals, nonprofit advocates, community organizations, and providers of human services to Philadelphia's Asian, Pacific Islander, and African immigrant communities. Over the past 36 months, Hep B United Philadelphia has successfully screened more than 1,000 underserved Asian and Pacific Islander and African immigrant community members, and has developed a citywide system for linking uninsured individuals with vaccine and follow-up care. This includes the development and initiation of a Mobile Hepatitis B Vaccine Clinic led by the Philadelphia Department of Health. The mobile clinic removes the sociocultural and economic barriers to receiving vaccine in local immigrant communities, and will offer convenient, free hepatitis B vaccine to hundreds. Hep B United Philadelphia has also offered culturally competent, in-language education to more than 3,000 individuals at community events, and evaluative surveys indicate successful increases in knowledge and awareness of hepatitis B transmission, prevention, and screening.
In 2011, the campaign hosted a media awareness event and "flash mob" at Philadelphia City Hall to commemorate May Hepatitis Awareness Month, with more than 125 community members and the Philadelphia Health Commissioner. Also in 2011, the campaign successfully held the first annual Citywide Hospital Screening Day, where more than 120 partners and 4 major university medical centers completed screening and education for more than 100 high-risk individuals.
On May 18, 2012, Hep B United Philadelphia is hosting an awareness/media event and a "photo flash mob" at the famous Philadelphia LOVE Park, with City Councilman David Oh and Philadelphia Mayor Michael Nutter. This event will highlight the dedicated local "hepatitis B heroes" who are helping to improve the health of their communities through the campaign. On May 19, National Hepatitis Testing Day, the campaign will offer free education and screening in collaboration with the Pennsylvania governor's Asian Heritage Festival in Philadelphia. It plans to reach more than 500 individuals with a message of prevention and early detection and to screen 250.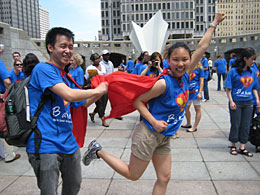 University of Pennsylvania medical students, representing Asian Pacific American Medical Student Association, revealing their inner heroes at the May 2011 Hepatitis Awareness Event
Hep B United Philadelphia is particularly proud of its student leadership. The campaign has more than 125 active student members (graduate, medical, and undergraduate). These students plan and volunteer at screening and education events, raise awareness on their campuses, and play a significant role in Hep B United's social media campaign. In 2012, the student leaders have created six 30-second public service announcements to raise awareness about hepatitis B, and helped to improve the social media reach into the thousands.
Since 2009, Hep B United Philadelphia has strived to create a meaningful, impactful awareness and assistance program to address local high rates of hepatitis B by ensuring that high-risk community members are tested and linked to appropriate care. Through a model of collaboration and innovation, the organization looks forward to continuing into the future in a city that stands united against hepatitis B.
Hepatitis B Foundation
3805 Old Easton Road
Doylestown, PA 18902
215-489-4900