The CDC NPIN Featured Partner resource offers HIV/AIDS, viral hepatitis, STD, and TB prevention-focused organizations a platform to showcase their services, programs, and materials. Our goal is to highlight the work of CDC's prevention partners and encourage partners to connect with each other to share information and strategies. Organizations are nominated by CDC or their peers, or are self-nominated. Those selected are featured on the NPIN Web site for the month.
Hep Free Hawai'i Overview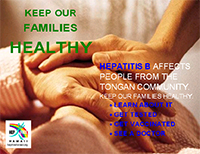 Hep Free Hawai'i (HFH) was created in 2011 as a grassroots coalition, and as the first coalition in Hawai'i dedicated to viral hepatitis education and awareness, screening, vaccinations, and equal access to care for everyone with hepatitis B and/or C. Over the last three years, HFH has become a coordinated coalition of more than 60 organizations combining efforts to maximize limited resources, partnering to raise awareness about viral hepatitis in Hawai'i, and helping people in Hawai'i learn their status and begin and maintain a linkage to care.
Program information in the Chuukese language
HFH Vision: To create a Hawai'i free of new viral hepatitis infections with a comprehensive system of care to support the health and well-being of persons with chronic hepatitis B and/or C and other liver diseases.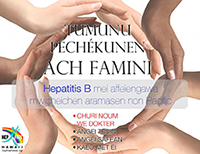 HFH Mission: To reach out to Hawai'i's ʻohana (family) to raise awareness and encourage active participation in the prevention, diagnosis, and treatment of viral hepatitis and liver disease in Hawai'i.
Hep Free Hawai'i's programs include hepatitis care coordination in the City and County of Honolulu; statewide education and awareness of viral hepatitis including in-language materials in Chuukese, Marshallese, Tongan, Samoan, and Ilocano; free hepatitis B and C testing and vaccination sites and events; and a comprehensive Web site with viral hepatitis resources and information for clinicians and the general public.
Program Highlight
Hep Free Hawai'i's Hepatitis Care Coordination program began in late 2011 to support people in Honolulu with hepatitis B and/or C in accessing quality, culturally competent care. Based on a medical case management model, the program was funded as a pilot project for one year and has been sustained with a patchwork of funding ever since.
The Hepatitis Care Coordination team consists of a licensed social worker and a master's level social work intern who conduct a comprehensive intake of each client. They work to reduce barriers to care by helping clients enroll in health insurance and find housing to stabilize them and make retention in care easier; accompanying clients to clinic visits as an advocate; and providing education and support as needed. Care coordinators work with HFH partner agencies so when someone tests positive for hepatitis B or C at an agency, they can be linked directly with a care coordinator for follow-up and support.
Thus far, the care coordinators have worked with more than 120 clients with hepatitis B or C. All clients seen by the social workers have had at least one medical appointment to assess liver functioning and discuss treatment options, and almost one-third of clients has initiated or is preparing for drug-based treatment.
Resources:
Check out Hep Free Hawai'i's Resources page to see all the materials they have developed.
Hep Free Hawai'i
677 Ala Moana Blvd. #226
Honolulu, HI 96813
808-436-5884