Gay Men's Health Crisis (GMHC)

The CDC NPIN Featured Partner resource offers HIV/AIDS, viral hepatitis, STD, and TB prevention-focused organizations a platform to showcase their services, programs, and materials. Our goal is to highlight the work of CDC's prevention partners and encourage partners to connect with each other to share information and strategies. Organizations are nominated by CDC or their peers, or are self-nominated. Those selected are featured on the NPIN Web site for the month.
Gay Men's Health Crisis (GMHC) Overview
Founded in 1982 by six gay men to address the "gay cancer" impacting their lives and to raise money for research, GMHC fights to end the AIDS epidemic and uplifts the lives of all affected. GMHC provides well-integrated, multifaceted prevention strategies for people who are either HIV-positive or at risk for HIV. Research and evaluation inform all aspects of their work, including direct services, public policy, advocacy, community support, and social marketing. GMHC promotes activities that decrease barriers and advance the possibility of a stigma-free society and a world without AIDS.
Program Highlight
Throughout more than 30 years of fighting this disease in New York City and across the nation, GMHC has gained clients who have been with the program as long as 25 years, many of whom are now 50 years of age or older. GMHC services have evolved as its clients have grown older to ensure programs meet the needs of the aging HIV-positive population. GMHC integrates these "older client" services, summarized below, throughout its education, advocacy, and support programs.
Health, Support, and Prevention Services
For those ages 50 and older, GMHC individualizes and customizes care plans to meet specific needs in the areas of Nutrition Education, Wellness Services, Mental Health Services, and Advocacy and Benefits.
GMHC's Geffen Center for HIV Prevention and Health Education offers point-of-care HIV rapid tests to people 45 years or older. Additionally, through their mobile testing unit, GMHC offers HIV testing at a number of Naturally Occurring Retirement Communities and other venues, and testing is always available onsite at the Geffen Center.
Education, Policy, and Media Initiatives
New York Association on HIV Over Fifty, Inc. (NYAHOF)
GMHC-sponsored NYAHOF works to ensure that the concerns of HIV-positive individuals older than 50 as well as their support networks are addressed. NYAHOF generates educational, programmatic, and policy initiatives in the field of aging.
Public Policy
In 2010, GMHC's Public Policy Department published the report Growing Older With the Epidemic: HIV and Aging (PDF) and has worked consistently in coalition with other community-based organizations to plan community forums and workshops to highlight the needs of older HIV-positive people.
Legislatively, the Public Policy Department is working to amend the Older Americans Act to explicitly name older adults living with HIV and older lesbian, gay, bisexual, and transgender Americans among populations defined as "greatest economic and social need." This will ensure that programs funded by the OAA can better respond to the needs of older adults with HIV and is a key step in helping senior centers, nursing homes, and other senior programs acknowledge and account for the unique HIV prevention and treatment needs of older adults.
GMHC emphasized the need for improved surveillance in monitoring epidemiological trends associated with HIV among older adults and worked with CDC to produce "Diagnoses of HIV infection among adults aged 50 years and older in the United States and dependent areas, 2007-2010," HIV Surveillance Supplemental Report 2013; 18. GMHC used the surveillance report findings to encourage new research and special projects on HIV and aging, such as a focus on Americans older than 55 who are more likely to receive an AIDS diagnosis concurrent with an HIV diagnosis, or present comorbidities and concurrent chronic illnesses, such as heart disease and cancer.
Action Center
The Action Center is a place where clients come to learn from each other about policies that affect people with HIV/AIDS so they can advocate effectively with elected officials and opinion and policy leaders. Clients advocate on issues critical to those aging with HIV, including consistent and confidential access to medications, safe and affordable housing, and support for older incarcerated individuals with or at risk for HIV/AIDS.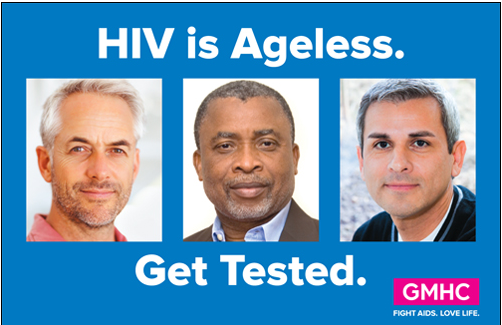 From HIV is Ageless Campaign
Media
Throughout the years, GMHC has created social media campaigns directed at sexually active older people, also called "eldersexuals." The "HIV is Ageless" campaign used images of men and women older than 50, showing this demographic people who look just like them. The campaign promoted messages about safer sex and the importance of getting tested.
GMHC also raises HIV and aging issues in the media. Recently, the New York Times article, "Spared Death, Aging People With H.I.V. Struggle to Live," featured two GMHC board members, Osvaldo Perdomo and Paul Bellman, MD.
GMHC

446 West 33rd Street
New York, NY 10001
212-367-1000