Florida Department of Health, Bureau of HIV/AIDS

The CDC NPIN Featured Partner resource offers HIV/AIDS, viral hepatitis, STD, and TB prevention-focused organizations a platform to showcase their services, programs, and materials. Our goal is to highlight the work of CDC's prevention partners and encourage partners to connect with each other to share information and strategies. Organizations are nominated by CDC or their peers, or are self-nominated. Those selected are featured on the NPIN Web site for the month.
Florida Department of Health, Bureau of HIV/AIDS Overview
Latinos Partnering to Address HIV/AIDS in Florida
Florida's Latino community is one of the fastest growing ethnic groups in the state, making up 21.5% of the state's population. Of those 18,727 living HIV/AIDS cases among Hispanics through 2010, 30% were U.S. born, 15% Cuban born, 10% Puerto Rican born, 5% Mexican born, 26% were born elsewhere, and the remaining 14% had an unknown country of birth. Among adults (age 13+), 1 in 111 Hispanic men and 1 in 439 Hispanic women were living with HIV/AIDS in 2010, compared to 1 in 201 white men and 1 in 1,121 white women.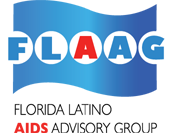 In 1999, the Florida Department of Health's Bureau of HIV/AIDS made a commitment to redouble their efforts to address HIV/AIDS in Florida's Latino communities. Florida's Latino initiatives are mostly community-driven. The Bureau of HIV/AIDS works very closely with the Florida Latino AIDS Advisory Group (FLAAG). The mission of FLAAG is to develop linkages between minority community leaders, minority community-based organizations (CBOs), and the Florida Department of Health, Bureau of HIV/AIDS by providing advocacy, resources, and strategies to increase the quality of HIV/AIDS services to Latino communities.
Program Highlight
In October 2010, Latinos en Accion of Broward County and the members of FLAAG held the first Latino HIV/AIDS Leadership Summit in Ft. Lauderdale, Florida. The Summit was held in recognition of National Latino AIDS Awareness Day (NLAAD) and was well attended, with 172 leaders from around Florida taking part in the historic event. The purpose of this grassroots effort was to mobilize key stakeholders in the fight against HIV/AIDS throughout Florida and to develop action items to assist communities throughout the state in raising awareness of HIV/AIDS in the Hispanic/Latino community.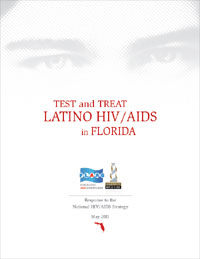 Florida Latino AIDS Advisory Group's document on Latino HIV/AIDS in Florida
After the summit, members of FLAAG created a document titled "TEST and TREAT LATINO HIV/AIDS in FLORIDA: Response to the National HIV/AIDS Strategy (NHAS)." A copy of the document can be found on http://www.floridahealth.gov/diseases-and-conditions/aids/index.html. This document includes a recommendation from the Latino Summit that the group connect their goals to the three major goals of NHAS. FLAAG submitted this document to the Bureau of HIV/AIDS for implementation. The Bureau agreed to use it as a blueprint to address HIV/AIDS among Latinos for the next 5 years.
This year, on NLAAD, the Bureau of HIV/AIDS will unveil an exciting new HIV testing initiative. The Bureau will hold a press conference to inform the state of Florida of an initiative to test 112,000 Latinos by 2012. This initiative will require partnering with many agencies and organizations throughout the state. In Florida, HIV testing for Latinos has increased 199% from 1999 through 2010.
Florida Department of Health
Bureau of HIV/AIDS

4052 Bald Cypress Way
Bin A09
Tallahassee, FL 32399
850-245-4444